This writeup will be short on words but long on charts.

The Nas 100 is leading the market. As long as the index does well, the entire market will at least hold up, so an analysis of the stocks will reveal a lot of valuable information.

Here are the monthly charts of the 25 biggest Nas 100 stocks. If they're doing well, the market will do well. Simple as that.

First the index; then the charts.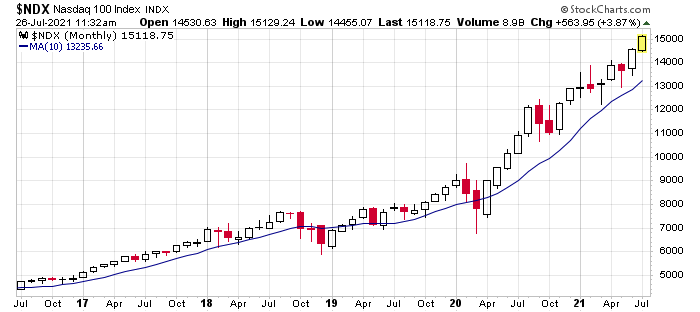 AAPL – clean breakout from a multimonth ascending triangle.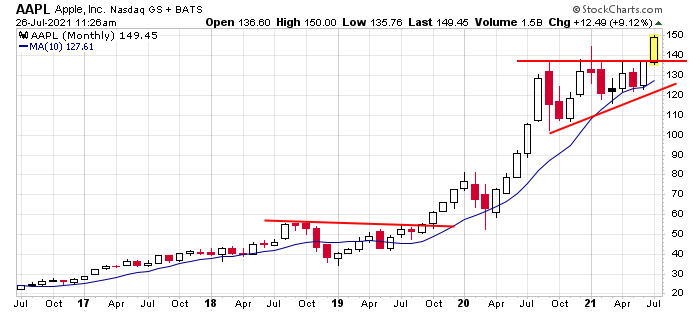 ADBE – a steady uptrend accelerated in 2020. Ten months of consolidation resolved up in a big way last month.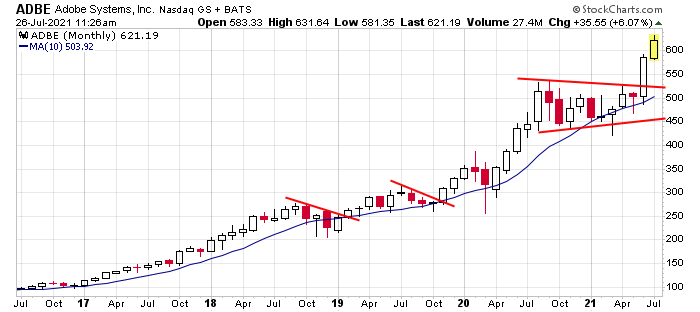 AMAT – has more than tripled over the last year…is clearly super strong.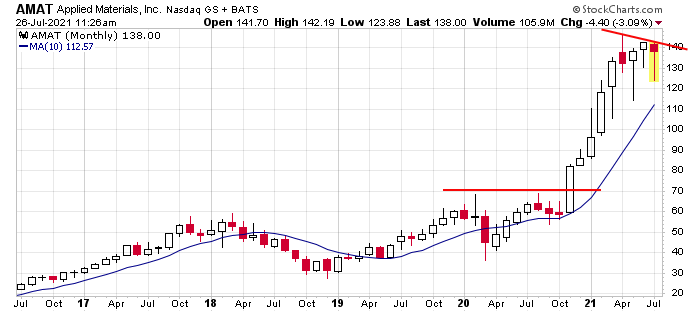 AMGN – trend is decent…but not a smooth mover.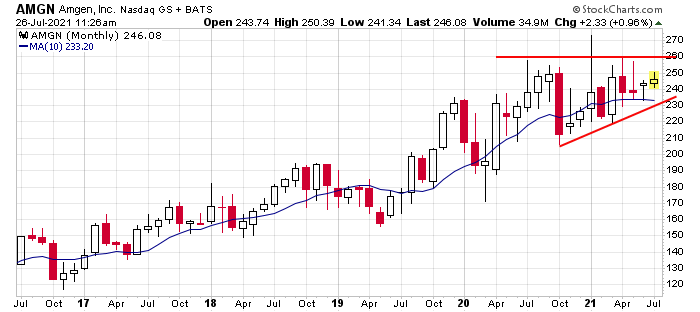 AMZN – trying to bust out and reassert its uptrend.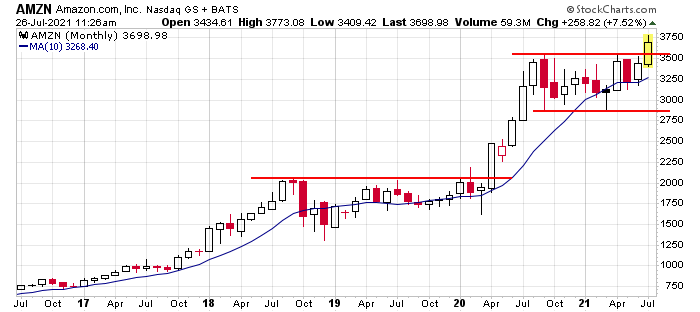 ASML – 9 consecutive up months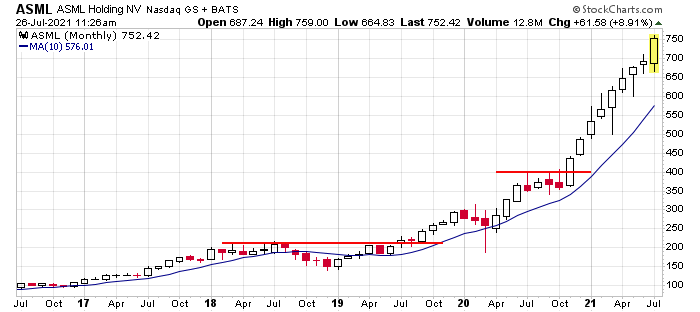 AVGO – trying to break out from a 7-month rest.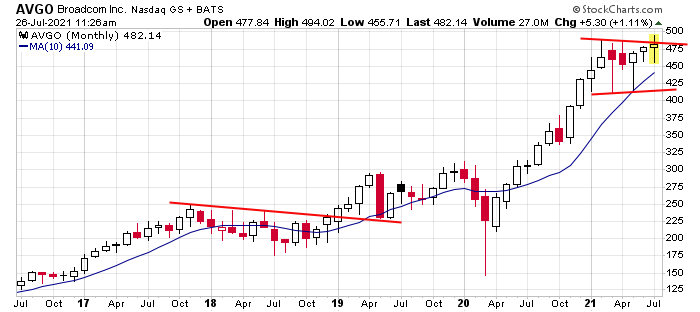 CHTR – two pauses…otherwise a 3-year uptrend.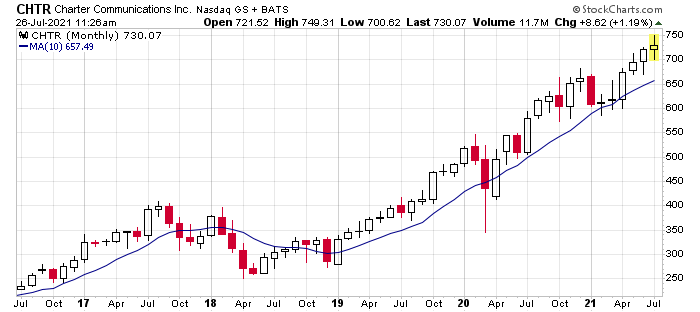 CMCSA – they've benefitted from people staying at home.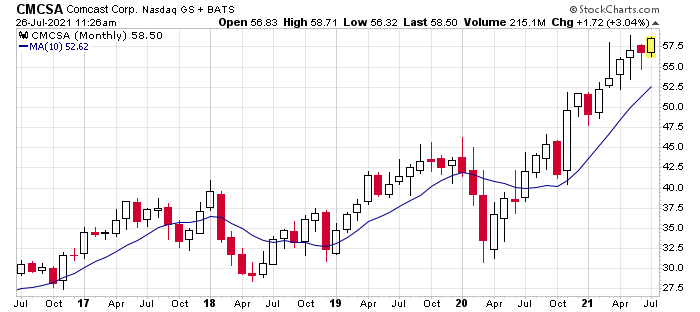 COST – it's the brick-n-mortar version of Amazon…such a fantastic company.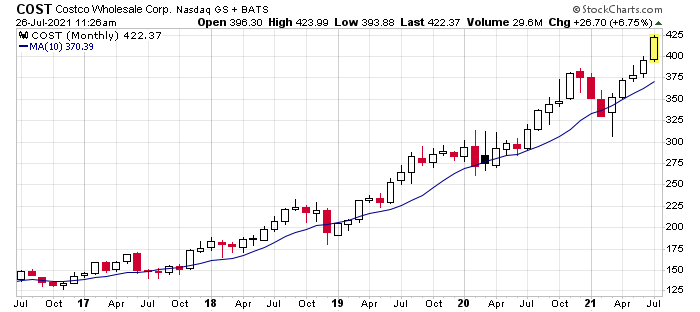 CSCO – double top getting ready to bust out and join the other large cap tech stocks?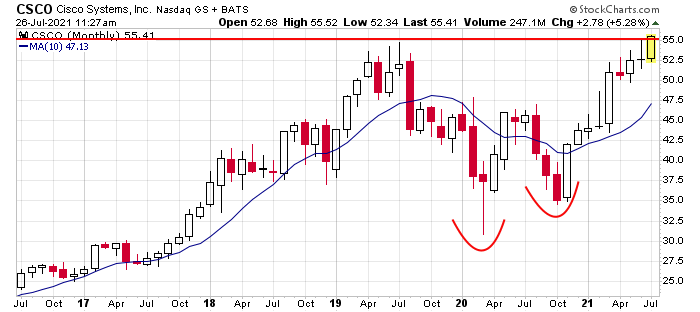 FB – there's always controversy with Facebook, but the stock always does well over time.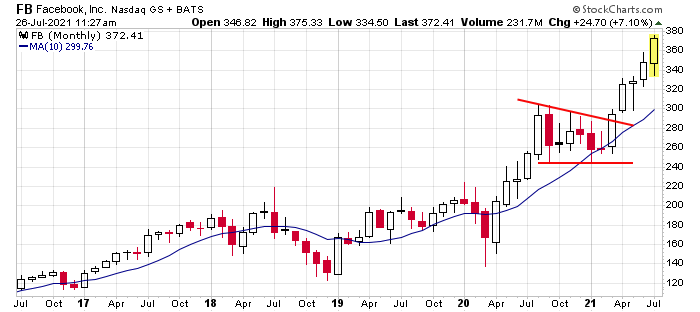 GOOGL – ramping up…it's not sustainable.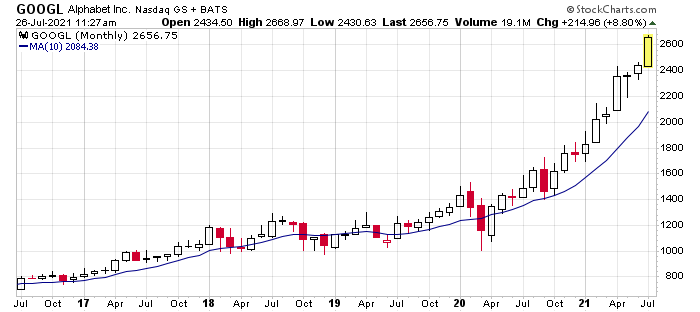 INTC – once king, INTC has lost to several other semiconductor companies.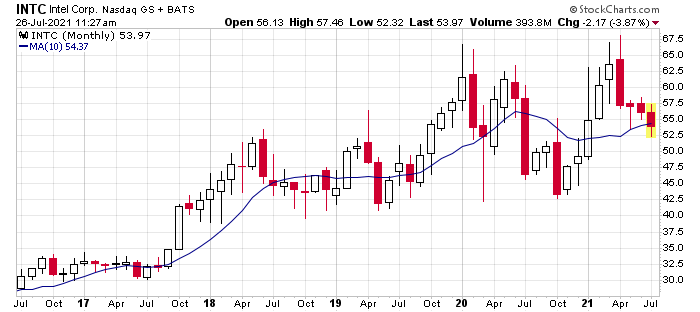 INTU – a few pauses but INTU has been rock solid for years.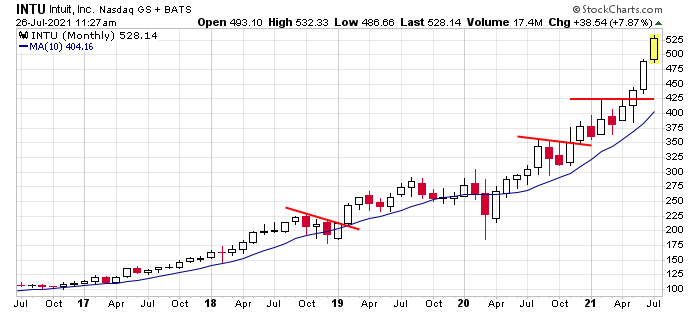 MSFT – only one close below the 10-month MA in 5 years.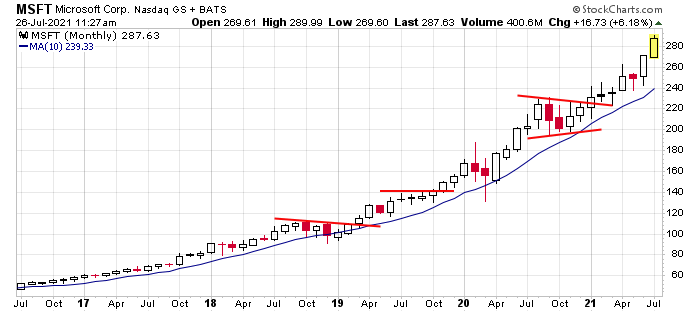 NFLX – has done well overall but is currently in the midst of a large consolidation period.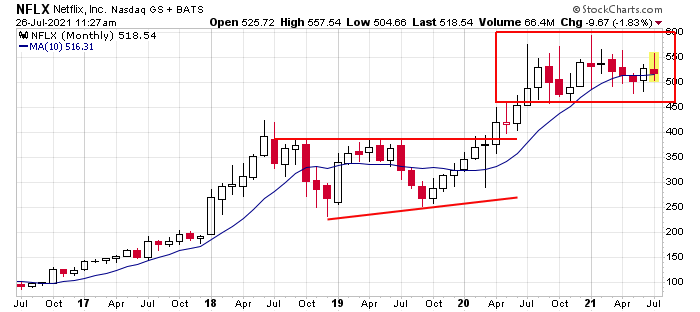 NVDA – a 5x move in two years.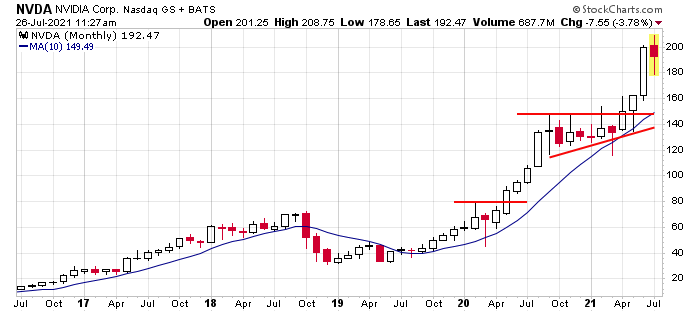 PEP – water, sugar water and chips – that's what Pepsi sells.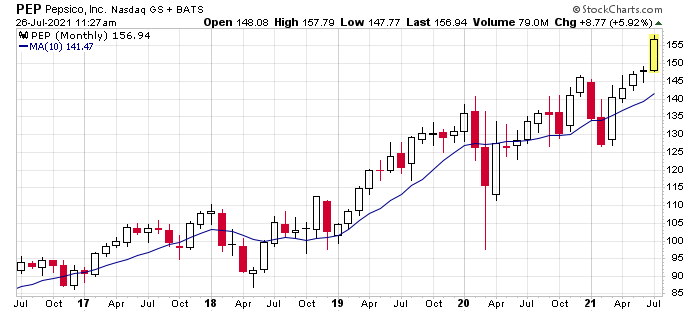 PYPL – a slow, steady uptrend accelerated 15 months ago.
QCOM – it's finally catching up to other large cap tech names…after years of doing nothing.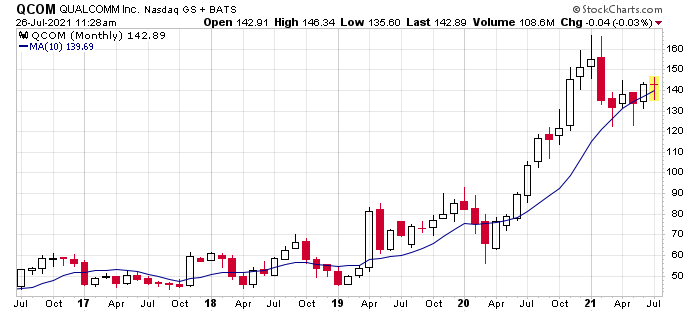 SBUX – it's like NKE – they just keep executing.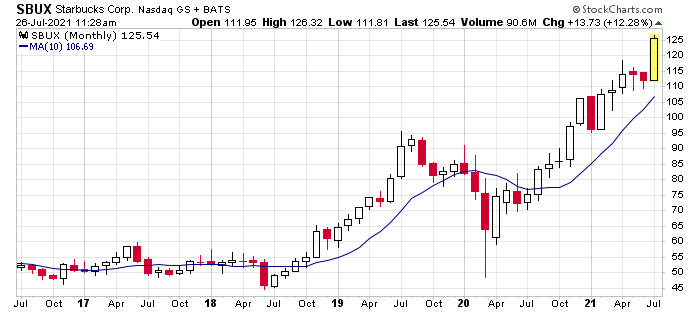 TMUS – it doesn't pay a dividend like T and VZ, and for that (and other reasons) the stock has gone almost 3x in three years.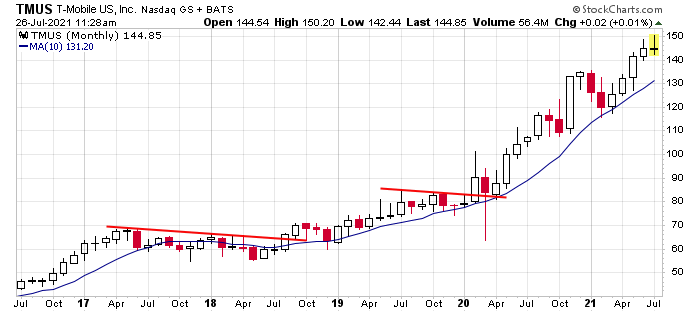 TSLA – nearly a 20x move in 15 months. The stock can consolidate for several years and still be in good shape.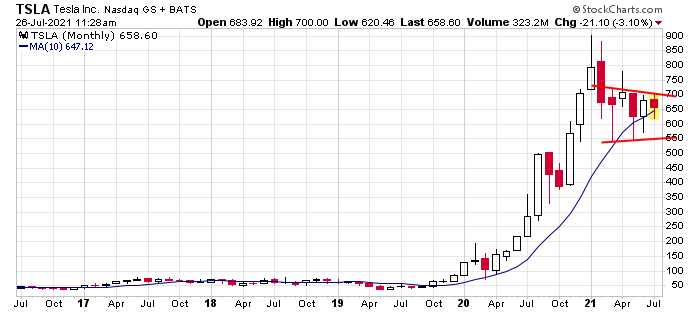 TXN – several semiconductor stocks in the top 25.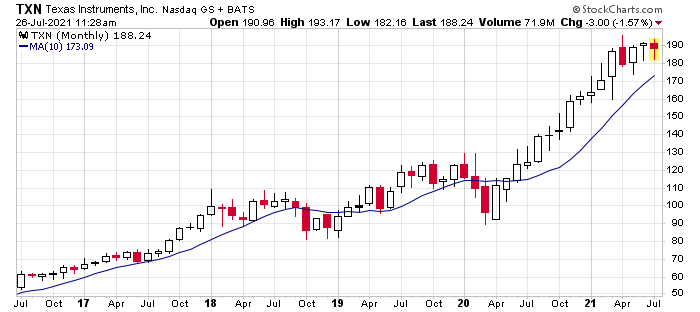 Even without reading the comments, a quick scroll through the charts reveals a very bullish market.
Most of the stocks are in solid uptrends. Almost all hit new highs within the last candle or two. Only NFLX and INTC are in bigger consolidation patterns, and only QCOM and TSLA are in uptrends but off their highs.
If the market was judged by these 25 charts, the market is in great shape.
Jason Leavitt
Jason@leavittbrothers.com