Let's talk commodities. We know inflation is high. Gas and food prices are front and center and are taking a bite out of most people's disposable income.
Below I'll flip through many charts. First agriculture and ag-related. The building materials. Then precious metals. And finally energy. Then I'll sum everything up.
RJI is a commodities ETN, heavily weighted with agriculture. Its largest components include: wheat, corn, cotton, soybeans, coffee, soybean oil, livestock (cattle, hogs), sugar, lumber, cocoa, rubber, soybean meal, canola and orange juice. It's a darn good representation of raw materials used in the food industry.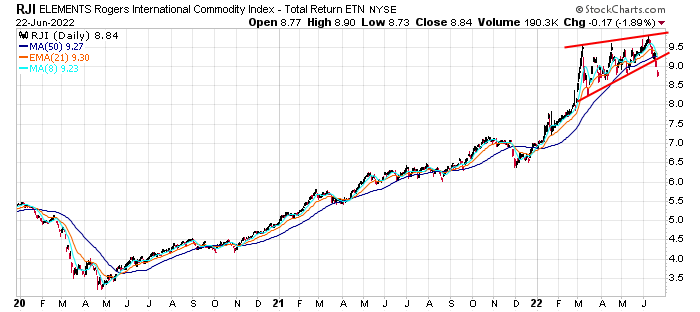 Let's go though the most important components, along with fertilizer.
Agriculture
Wheat has double-topped and broken down to nearly a 3-month low.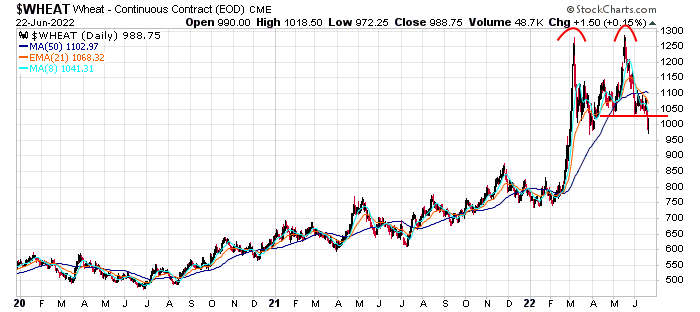 Fertilizer is 30% off its high.

Corn has formed a 4-month top, and as of yesterday's close, is at its lowest level since late February.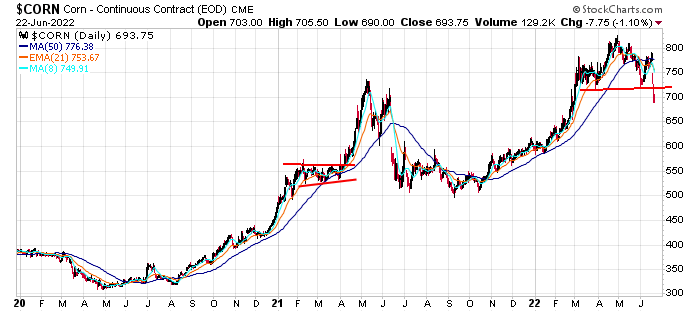 Coffee doubled in price in 2021 but is flat going back eight months from today.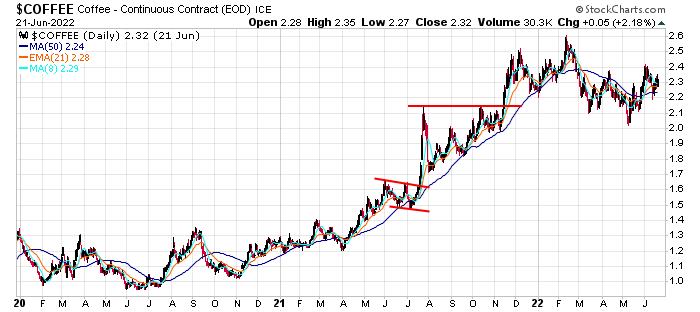 Soybeans doubled from mid-2020 to mid-2021…dropped 30%…then rallied 50%. It's currently unchanged since early March.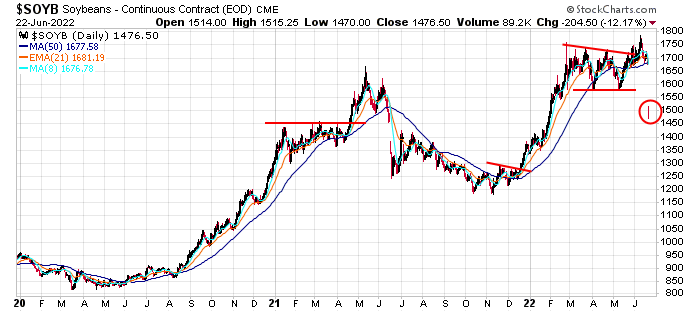 Cotton bottomed in April 2020, a few weeks after the market bottomed. Since then it's up 3X, so inflationary pressures have been present for 2+ years.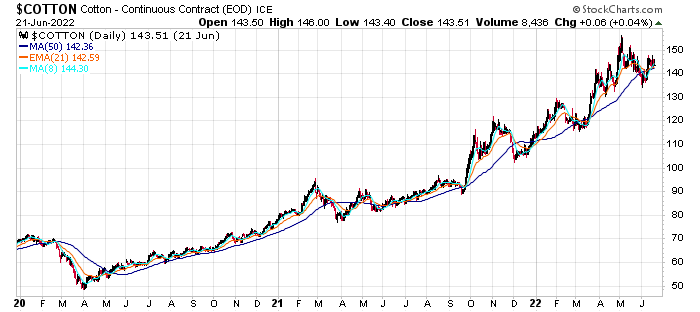 Livestock also bottomed in April 2020, a few weeks after the market. It's doubled since then but is trendless over the last 4+ months.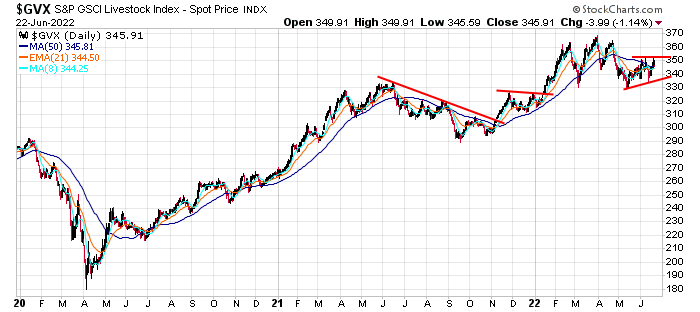 Sugar doubled off its April 2020 low but is flat going back 10 months.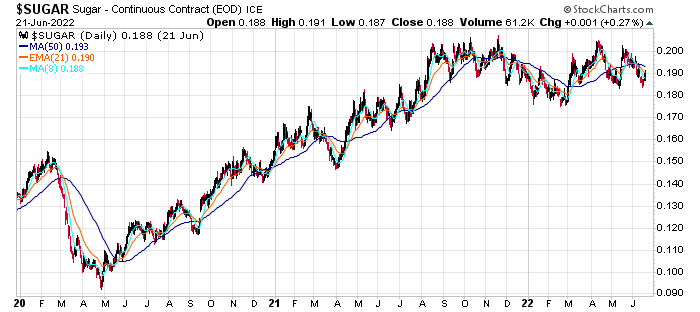 Cocoa has been a sloppy mess for many years. It has been immune to all outside forces.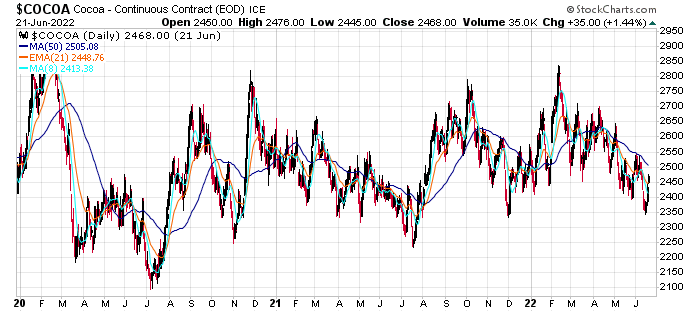 Building Materials
Lumber has swung wildly the last 30 months. It rallied 5X off its April 2020 low…then dropped 75%…then more than doubled. And now its 60% off its high. I'm not sure what this is indicative of because it's been out of sync with other commodities.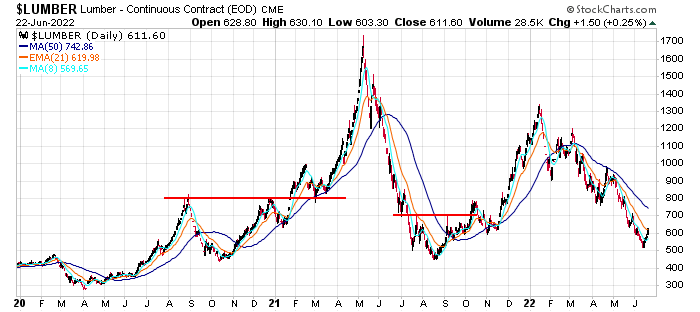 Aluminum rallied 13X off its March 2020 low but is 50% off its high over the last three months.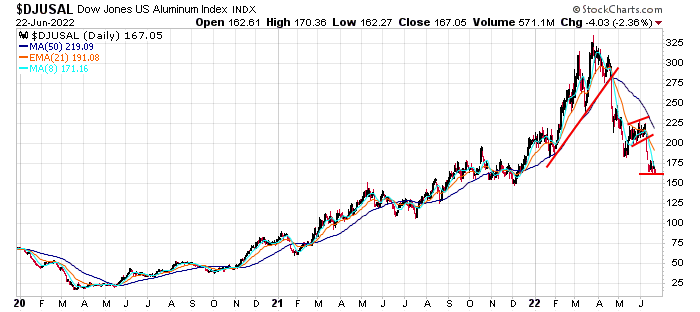 Steel also rallied big off its March 2020 low (430%) but is 40% off its high and unchanged going back 12 months.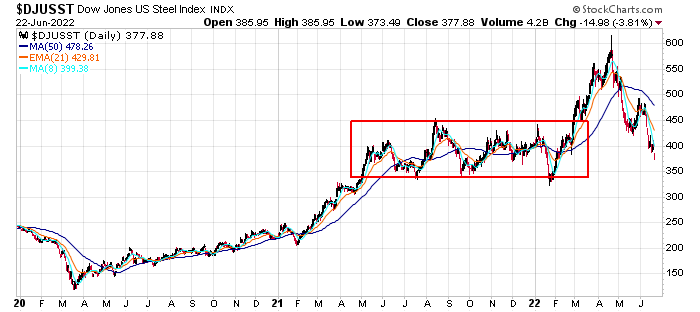 Copper initially rallied 2.5X off its March 2020 low but is unchanged going back 15 months and is breaking down from a range.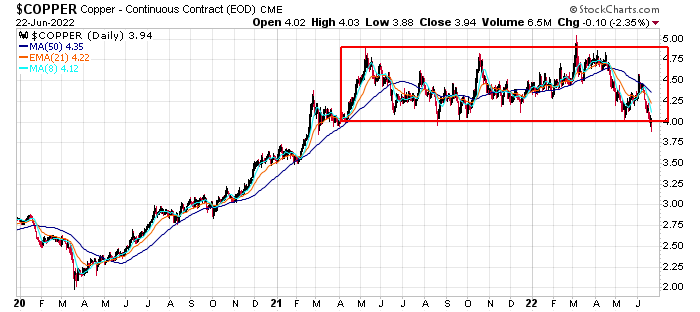 Precious Metals
Gold, Silver, Platinum, Palladium – they're unchanged going back several years. They've rolled up and down in ranges but haven't been able to maintain a trend.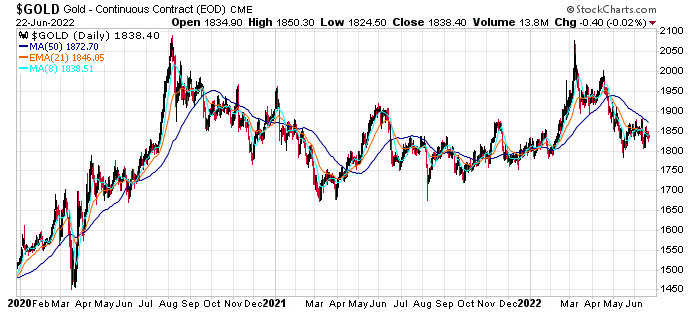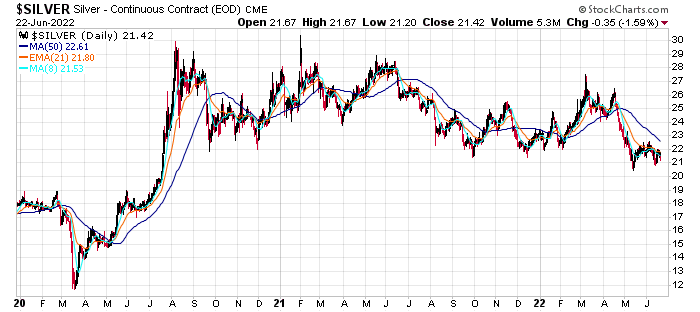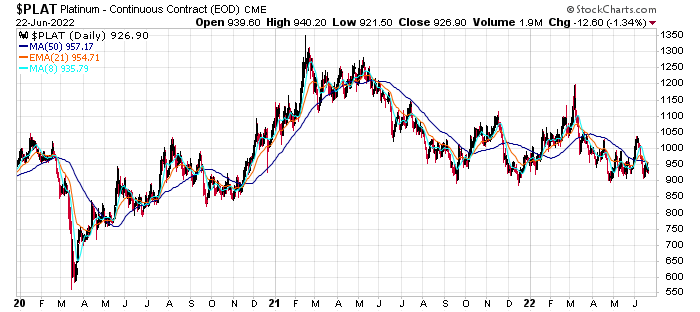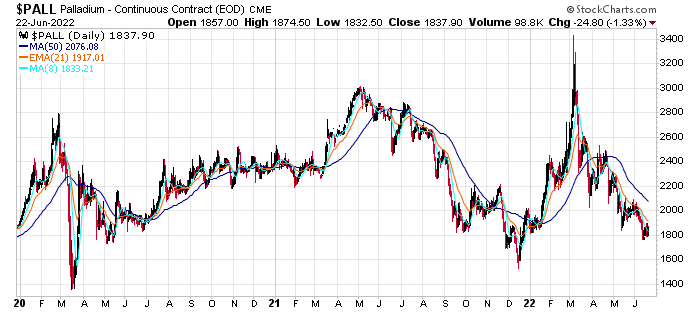 Energy
Crude oil has trended up for most of the last two years. However, it's unchanged over the last four months and has mostly traded in a large range.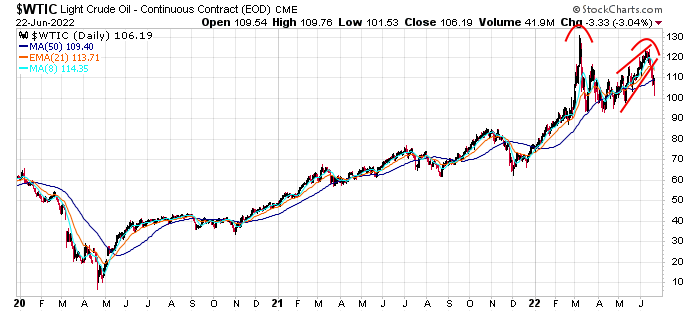 Natural gas doubled in mid 2021 but then nearly got cut in half. Then it nearly tripled before breaking down last week.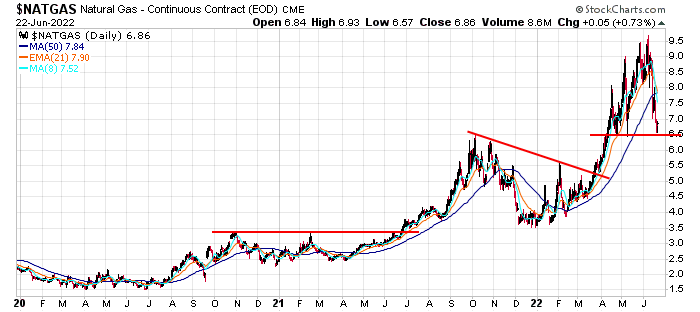 Heating oil rallied 6X off its April 2020 low and has been very volatile the last four months.
Gasoline has rallied a couple hundred percent – it's a double this year alone – and is currently off its high and unchanged going back to early March.
Most of the food-related commodities posted huge gains off their 2020 lows but haven't done much the last few months. Either they're consolidating within an uptrend and will break out again, or they're in a topping process.
Building materials followed the same path – big moves in 2020 and 2021, but they're all well off their highs and unchanged going back many months.
Precious metals don't matter, other than informing us they are not an inflation hedge.
Energy is up huge off its 2020 lows and would mostly still be considered in an uptrend. But in all cases, prices are no higher now than they were a few months ago.
It is my belief a recession is needed to force prices down further. Lumber, aluminum, steel and copper are all well off their highs. I don't think it's a coincidence housing prices are dropping, demand has declined, and basic building materials have come down in price.
The same will happen elsewhere. If we go into a recession, companies will lay off employees, who will then spend much less money. Others, shocked by gas and food prices, will spend less too. And eventually the lower demand will force prices down. The solution to high prices is higher prices because eventually people will cut back and force prices down. I don't expect them to go back down to pre-COVID levels because wages are much higher today, but they will come down.
It's already happening with food commodities.
Wheat, fertilizer, corn and others are off their highs and unchanged going back several months.
And with building materials.
Lumber, aluminum, steel and copper are well off their highs.
And it's starting to happen with energy.
Oil and natural gas could be breaking down.
Per the charts above, inflation is not running out of control. Most commodities experienced massive gains off their lows but haven't done much the last few months. A few more rates hikes and a recession would bring inflation back down. And since this is our biggest threat, it serves as a sliver of hope the market can bottom later this year.
Jason Leavitt
email list: https://www.leavittbrothers.com/email-subscribe.cfm
subscription: https://www.leavittbrothers.com/videos/LBoverview.cfm
masterclass: https://www.leavittbrothers.com/masterclass.cfm