SUNW progressed through one of my favorite setups – a kiss-n-cross trade, which uses the MACD and Stochastic. I talk about this trade in my
masterclass
.
The sequence plays out on all time frames, but I have found intraday charts work best.
Here's an hourly. The MACD and Stochastic crossed down on Apr 4 and 5. After the stock dropped, causing the MACD to trend down and the Stoch to cycle below 20, the stock attempted to rally. But the rally lacked energy. The MACD couldn't cross back up – it merely moved up to its signal line and got rejected. That's the kiss. Meanwhile, the Stoch cycled up and then crossed back down. That's the cross.
The combination of the MACD kissing its signal line and the Stoch rolling over is the kiss-n-cross sequence. It's used to enter in the direction of a newly-formed trend, on whatever time frame you operate on.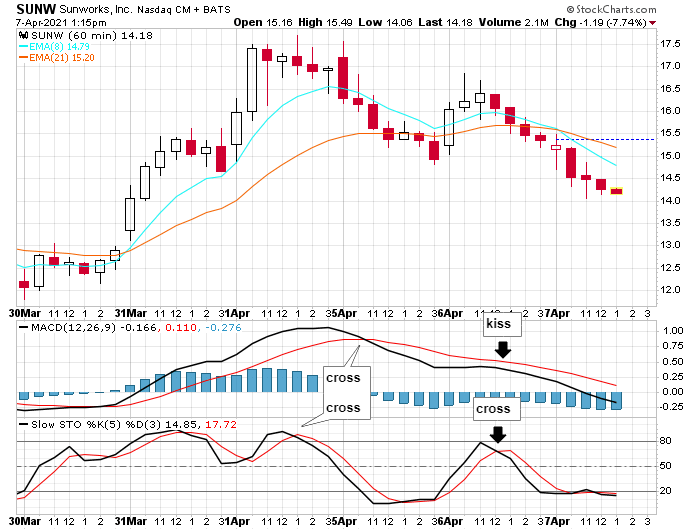 I talk about this trade setup and many more in my
masterclass
.
Good luck. Join our
email list
and get write-ups like this sent directly to you.
Jason Leavitt